Box Set of All Eight Seasons
Plus"Danny Thomas" Pilot and Return to Mayberry Movie!
An All New 8-Season Box Set with Pilot & Reunion Movie is now available. The price is a fantastic deal at only $109.00 (vs. original price of $240.00)
2014 Andy Griffith Show Wall Calendar
Buy 2, Get 1 Free!
That's right. Ol' Ben Weaver got into that jug of Christmas spirits a little early this year. When you buy 2 of the 2014 Wall Calendar, we'll add another one to your order for
FREE
.
Ernest T. has calculated that that's like getting the 3 calendars for just $10 each, or 1/3 off! Christmas in October! No trick, just treat. So buy a couple of calendars for friends, and get one for yourself. You deserve it!
The Way Back to Mayberry
This book features a Foreword by George "Goober" Lindsey and is peppered with well-chosen photos. But what makes this book's 30+ chapters (each focusing on a favorite Mayberry episode) so special is the deeply personal and meaningful way that Joey Fann uses humor, sincerity, and sound reason to draw together lessons from Biblical Scripture, events in Mayberry, and elements and actions in his own life.
The Andy Griffith Show 50th Anniversary--The Best of Mayberry DVD
A really exciting item with features and content that we've all long been hoping for. The full version of pilot that became The Andy Griffith Show, the "Return to Mayberry" 1986 TV movie, sponsor commercials featuring cast members and more. You won't want to miss this one!
Barney Face T-Shirt
This design is simply
Barney's face
on a black shirt. What more can you ask of a T-shirt than that! "Aw, big ain't the word for it!"

The
latest edition
of the TAGSRWC official eNewsletter is now online.
Check the eBullet Archives for all issues of the eBullet
and
subscribe
to get on the
free
e-mail list.
Sign Up for iMayberry Community - Join the community
The
iMayberry Community
's goal is to help fans of
The Andy Griffith Show
connect on a more personal level so they can share their knowledge and love of Mayberry.
Community, friends, relationships, family.....those are the things that we love about Mayberry and those are the things the
iMayberry Community
wants to nurture.
Please join this online version of Mayberry, have fun, visit, share the spirit of Mayberry and let's see our Mayberry family grow. Mayberry fans are a special group and the
iMayberry Community
is something special as well. See you in iMayberry.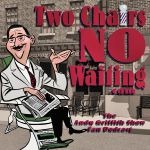 The Andy Griffith Show Fan Podcast

"
Two Chairs No Waiting
" Andy Griffith Show Fan Podcast
is full of fun information about The Andy Griffith Show and all things Mayberry. There are interviews, listener feedback and a lot of Mayberry fun. The episodes feature interviews with cast members, tribute artists and fans. Drop by and
listen online or download
the episodes.
New episodes every Tuesday night.
Oh yeah, "Goober says, 'Hey!'"
Be sure to check out the
Burke on Mayberry
podcast as well.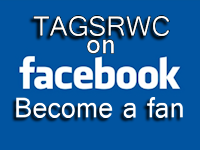 Become a Fan of TAGSRWC on Facebook
TAGSRWC
has created a
Facebook Fan page
as another method of delivering our share of Mayberry fun to the world. Thanks to those that have already found us and here's an invitation to everyone to
become a fan of TAGSRWC on Facebook
. You don't even have to be a member of Facebook to check out the page. Our plan is to put a vintage TAGSRWC or Mayberry event photo with cast members on the Facebook page every week or so as well as information about whatever news might be happening. You can talk back to us and among yourselves as well.
Head on over and become a Fan!
Mayberry Memorials
TAGSRWC recently began setting up
Memorial areas
here on iMayberry.com to allow fans and family alike to add thoughts about some of the wonderful actors and crew who made Mayberry a place we all enjoy. Feel free to add your thoughts or memories about our Mayberry friends.
Sarah'sMayberry Directory
The most up-to-date listing of Mayberry and Mayberry related sites on the web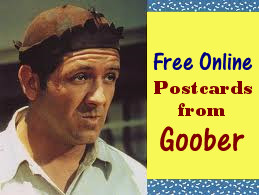 Sending online greetings to your friends right from Mayberry. Visit Postcards from Goober and bring some Mayberry into your friends day. Enjoy!
Believe it or not, Mayberry was on Star Trek. Check out this wonderful site by TAGSRWC member "Dapper Dan" which he donated to the iMayberry.com site. These pages give you a tour of Mayberry you've never seen.
Check out some neat comic strips by Sam White!
---