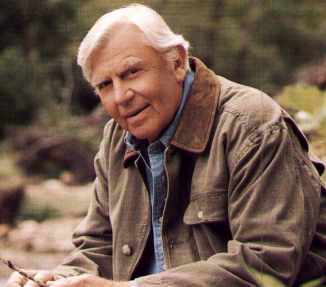 June 1, 1926 - July 3, 2012
Andy Griffth
We were all tremendously saddened by the news of Andy Griffith's passing. The legacy he has left the world with his works in entertainment and the arts and in philanthropy is incalculable. Our grief is really beyond words. We encourage everyone to keep Cindi Griffith and others in his family and close circle of friends in your thoughts and prayers.
Here are initial official statements from Andy's family:
---
Statement From the Family of Andy Griffith


Andy Griffith passed away, after an illness, during the early morning on July 3 at his home in Manteo, N.C., with his wife Cindi at his side. He was 86 years old.
Mr. Griffith has been laid to rest on his beloved Roanoke Island. His favorite causes were Outer Banks Conservationists and the Griffith Scholarship Fund at UNC-Chapel Hill.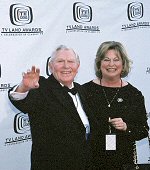 Statement From Cindi Griffith:
"Andy was a person of incredibly strong Christian faith and was prepared for the day he would be called Home to his Lord. He is the love of my life, my constant companion, my partner, and my best friend. I cannot imagine life without Andy, but I take comfort and strength in God's Grace and in the knowledge that Andy is at peace and with God."

Andy Griffith's Favorite Causes
Because many people have been wondering if there is something they can do to honor the life of Andy Griffith, here are two causes that were close to his heart.
Outer Banks Conservationists
PO Box 970
Manteo NC 27954

Attn: Mr. Dan Thornton
Griffith Scholarship Office of Scholarships and Student Aid
University of North Carolina at Chapel Hill
Campus Box 2300
Chapel Hill NC 27599-2300

Photo Galleries
Remembering Andy Griffith
- TAGSRWC
Andy Griffith (1926-2012)
- The Andy Griffith Show - Behind the Scenes