George Lindsey, 1928 - 2012
Official release from the Lindsey family.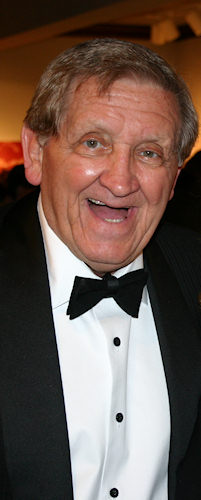 Obituary for
GEORGE LINDSEY
Beloved as Goober Pyle on "The Andy Griffith Show" and "Hee Haw"
NASHVILLE, TENN., May 6, 2012—George Lindsey, the actor best known for his portrayal of dim yet lovable gas station mechanic Goober Pyle on "The Andy Griffith Show," died at 12:05 a.m. on Sunday, May 6, after a brief illness. He was 83.
Born in Fairfield, Ala., on December 17, 1928, George Smith Lindsey was raised in Jasper, Ala., and was the only child of Alice Smith Lindsey and George Ross Lindsey. As a young boy, Lindsey's best buddies were his dog One Spot and his pal Sappo, a lifelong friend and a popular foil for Lindsey's stand-up comedy act.
Lindsey liked to hang around his Aunt Ethel's gas station, where the mechanics wore felt caps to keep the grease and oil from dripping into their hair. Those caps would inspire Lindsey's trademark "beanie" worn by Goober.
Gas station notwithstanding, the Lindsey family of George's youth felt the full weight of the Great Depression. Those hard times were later a rich source of material for his comedy act, with jokes guaranteed to get a laugh, such as: "We were so poor that we'd eat beans for breakfast, drink water for lunch and swell up for supper."
As a student in Jasper, Lindsey was a good athlete. At Walker County High School, he excelled in football and basketball. One of the few other official high school activities he enjoyed was doing theatrical productions. He was as surprised as anybody when he graduated high school. With no real plans for his future other than a desire to be in the spotlight, Lindsey enrolled in local Walker Junior College. After being invited not to come back for a second semester at Walker, Lindsey enrolled (that is to say, "was sent away") for a year of junior college at Kemper Military School in Boonville, Mo.
Next up was the University of Alabama in Tuscaloosa. Lindsey lasted a semester there, but couldn't afford the tuition for a second semester. It was probably just as well. As he joked in his 1995 autobiography, Goober in a Nutshell, "I was in remedial everything. I was even in remedial lunch." He was, however, able to scrape together enough money to enroll at Florence State Teachers College (now the University of North Alabama).
Lindsey thrived in Florence. He eventually rose to starting quarterback for the football team. His football prowess earned him a much needed scholarship, which allowed him to finish his collegiate career at Florence State. He also performed regularly with the college theater group. He graduated in 1952 with a degree in biological science and physical education.
His alma mater in Florence remained a passion for Lindsey the rest of his life. He was awarded an Honorary Doctorate of Humane Letters by the university in 1992 and was inducted into the university's Athletic Hall of Fame in 2011. He was proud to be a co-founder of the George Lindsey UNA Film Festival in 1998. Several scholarships are also endowed in his name. The university is home to the George Lindsey Collection, which contains most of his television and movie scripts and much of his other career memorabilia. Lindsey was proudly on hand during the film festival in March of this year for the dedication of the George Lindsey Theater on the UNA campus.
After he graduated from college, Lindsey joined the Air Force. He was assigned to special services and to be a swimming instructor. At one point during his service at Ramey Air Force Base in Puerto Rico, he served as personal lifeguard for General Curtis LeMay, head of the Strategic Air Command.
Much of his time with the Air Force was spent at Pinecastle Air Force Base near Orlando. He was responsible for putting together plays and other entertainment for the servicemen. He also worked on plays at nearby Rollins College in Winter Haven. It was at Rollins that Lindsey met and fell in love with Joyanne Herbert. They were married in 1955.
After Lindsey was discharged from the Air Force, the newlyweds moved to his home turf in Alabama. With his college degree (and a teacher's certificate) and Air Force experience, Lindsey landed a job coaching basketball and baseball and teaching history at Hazel Green High School in Madison County.
"I was the worst teacher in the world," Lindsey later said. After a painful year at Hazel Green High, Lindsey decided to put everyone out of the misery of his teaching. He was accepted at the prestigious American Theater Wing in New York City. With the help of GI Bill funds, he studied at the American Theater Wing for two years and loved every minute of it. To help pay the bills during and after this time, he worked as a comedian and actor in nightclubs and coffeehouses. He was noticed by agents from the William Morris Agency, and he signed with them to represent him.
Before long, Lindsey landed the role of Moose in the production of All American at Broadway's Winter Garden Theatre and later the role of the Wreck in an industrial show version of Wonderful Town, which toured the country after premiering on Broadway. He also began to get some work in television. But by far Lindsey's biggest hit during this time was the birth of his son George in 1962. In his father's eyes, a star was born.
The growing Lindsey family was soon following their dream to California. Most of Lindsey's early Hollywood work was as tough guys and bad guys, mostly in westerns, such as "The Rifleman" and "Gunsmoke." He also appeared in the "The Real McCoys," "The Twilight Zone," several Disney productions and three episodes of "Alfred Hitchcock Hour," most notably the episode titled "The Jar," one of his favorite performances.
Lindsey got a call in 1962 to audition for the one-episode role of a gas station attendant on "The Andy Griffith Show." He thought he had the job, but at the last minute Jim Nabors was given the role of Gomer Pyle, which evolved into a bigger part and a springboard to stardom for Nabors. When Lindsey saw that first episode featuring Gomer, he famously kicked in the screen on the television set in his living room. As he wrote in his autobiography, he was furious about losing the part. "Not only that, but now I didn't have a TV to watch 'Ben Casey' on."
Not to worry. Lindsey's destiny was still Mayberry. In 1964, Lindsey landed the role of Gomer's cousin Goober Pyle, who was to be Gomer's heir apparent at Mayberry's filling station. Seven full seasons of acting work as Goober followed for Lindsey, four on "The Andy Griffith Show" and then three on the sequel series, "Mayberry R.F.D."
And from there bloomed a career of both embracing and running from Goober—most prominently during two decades as a regular on the syndicated "Hee Haw" on which he dressed as Goober but was usually addressed as George. Over the years, Lindsey made his peace with the role that had pigeonholed him. As he wrote in his "What Mayberry Means to Me" poem, which he used as his signature finale for his stand-up act for 30 years, "The thing I like about Mayberry, most of all, it's made ol' Goober rich!"
Shortly after landing the role of Goober on "The Andy Griffith Show," Lindsey upstaged himself with the birth of his beautiful daughter Camden. With son George now two, the Lindsey family of 1964 was hitting on all cylinders and "running like a scalded dog."
Lindsey had become one of the busiest performers in show business. He was a frequent guest star on top television shows and made countless guest appearances on talk shows and game shows. Movie roles, including voice-over work for favorite Disney animated features, and a full slate of stand-up comedy, both as a headliner and as an opening act for top country music acts, kept Lindsey in demand. He was also spokesperson for Getty Oil Truck Stops and Liberty Trouser Company, and he opened a chain of fleetingly successful George Lindsey's Family Steak Houses. He even recorded a few albums of both comedy and country music, including tunes by some of Nashville's top songwriters and a few that Lindsey co-wrote.
Through it all, Lindsey always found time to support good causes. He was a fixture at charity fundraisers. The cause closest to his heart was Special Olympics. His annual George Lindsey Celebrity Golf Weekend raised over $1,000,000 for Alabama Special Olympics from 1973 to 1988. One of the legacies of that effort was the George Lindsey Aquatic Center in Tuscaloosa.
When Lindsey was inducted into the Alabama Sports Hall of Fame in 1983, it was in recognition of his work as a "Youth Benefactor" for Special Olympics more so than for his own athletic accomplishments in high school and college. His receipt of the Minnie Pearl Lifetime Achievement Award in 1997 was also primarily in recognition of his charitable works. For that reason and because comedienne Minnie Pearl had been such an important friend in his life, Lindsey often said that award was the one that meant the most to him. (That's not to say that he didn't also appreciate receiving the Tire Gauge to the City of Nashville during Goober Pyle Day in 1990—presented on behalf of the city's mayor by country music's Bellamy Brothers.)
After "Hee Haw" ended production in 1992, Lindsey, who was recently divorced, made his permanent home in Nashville. He maintained a busy schedule of stage and film work. He embraced the Goober character to the point that he often gave up his customary tuxedo and wore the "Goober Suit" for his stand-up shows. In the wake of the hit Return to Mayberry made-for-TV movie in 1986, Lindsey's appearances at Mayberry reunion shows and festivals drew large crowds of enthusiastic fans over the next two decades. Several television retrospectives for "The Andy Griffith Show" also garnered high ratings. In 2004, Lindsey shared the TV Land Legend Award with other members of the "Griffith" cast and crew.
In addition to hosting the George Lindsey UNA Film Festival the last 15 years, Lindsey continued to find varied and fulfilling work. From NBC's "News Radio" in 1997 and serving as host of the Turner South series "Liars & Legends" in 2000 to the country music single and video for "Find Me a Man Like Goober" in 2007 and Larry the Cable Guy's "Hula -Palooza Christmas Luau" in 2009, Lindsey constantly found opportunities to savor the spotlight and bring smiles to as many faces as possible. He was an eager participant in "Salute to the Kornfield," a "Hee Haw" reunion created for both a series of DVDs in 2011 and a cable TV special this year.
Lindsey often commented that he was torn about what he wanted his tombstone to say. One choice goes for the joke: "I told you I was sick." The other goes for the heart: "I hope I made you laugh."
George Lindsey is survived by son George Lindsey, Jr., of Woodland Hills, Calif.; daughter Camden Jo Lindsey Gardner, her husband Russell and their sons, Carson Cole Gardner and Andrew Liam Gardner, all of Valencia, Calif.; a cousin, Rebecca Weber of Gadsden, Ala.; and his dear companion of many years, Anne Wilson of Nashville, Tenn.
Visitation and funeral arrangements will be announced. Arrangements are being handled by Marshall Donnelly Combs Funeral Home of Nashville.
In lieu of flowers, donations in Lindsey's memory may be made to: Special Olympics Alabama, 880 South Court Street, Montgomery, AL 36104; UNA Foundation, with a designation to the George Lindsey Film and Digital Media Scholarship, UNA Box 5113, Florence, AL 35632-0001; or another charity of the donor's choice.
###
Statement by Andy Griffith About George Lindsey
"George Lindsey was my friend. I had great respect for his talent and his human spirit. In recent years, we spoke often by telephone. Our last conversation was a few days ago. We would talk about our health, how much we missed our friends who passed before us and usually about something funny.
"I am happy to say that as we found ourselves in our eighties, we were not afraid to say, 'I love you.' That was the last thing George and I had to say to each other. 'I love you.'
"George often told me his fondest memories of his life in show business were the years he spent working on 'The Andy Griffith Show' and 'Mayberry R.F.D.' They were for me, too."
###
Contact:
Carrie Moore-Reed
Third Coast Talent
(615) 685-3331
carrie@thirdcoasttalent.com