---
First Annual Mayberry Squad Car Nationals Press Release
In Fayette, AL
Fayette, Ala., to Host First Annual Mayberry Squad Car Nationals
Barney Fife would get migraine at just the thought of all the speeding cars

FAYETTE, ALA., February 21, 2001-Well, it was bound to happen sooner or later. Somebody has finally gone and combined auto racing and Mayberry to create the First Annual Mayberry Squad Car Nationals to be held at the old airport runway at Guthrie Smith Park, located on Hwy. 43 near Freeman Chevrolet, in Fayette, Ala., on March 17. Gates open at 11 a.m. with entertainment and hearty eatin'. Racing will run from about 1 to 5 p.m. The event is dedicated to the memory of Dale Earnhardt Sr.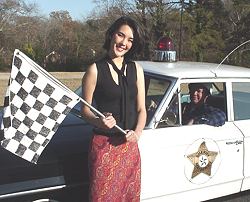 All it took was for "Hearty Eatin' Men and Beautiful, Delicate Women" chapter (Tuscaloosa, Ala.) of "The Andy Griffith Show" Rerun Watchers Club (TAGSRWC) to get their own Mayberry Squad Car replica rolling and then it was a given that they would want to be racing it. (Speed, speed, speed. That's all they understand. Well, that and eat, eat, eat.)
"We love Mayberry and we love cars and racing," says Kenneth Junkin, event organizer and "Hearty Eatin'" representative. "We thought this would make an outstanding and genuinely fun entertainment event for our area. "Plus," Junkin admits, "We want to show off our new Mayberry Squad Car and how fast it'll go."
Junkin is not alone. Mayberry Squad Car replicas are expected to attend from elsewhere in Alabama and from Mississippi, Tennessee, Georgia, Florida, and, believe it or not, from as far away as Illinois, Indiana and Ohio.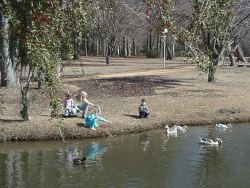 The Mayberry Squad Car Nationals is being dedicated to the memory of late NASCAR great Dale Earnhardt Sr. A portion of the proceeds from the event will be donated to Foundation for the Carolinas, a charity designated by the Earnhardt family for memorial donations. In addition to Dale Earnhardt's obvious love of racing, he was also known to be an avid fan of "The Andy Griffith Show."
"Like all racing fans, we are devastated by the tragic death of Dale Earnhardt," Kenneth Junkin said on behalf of his fellow Mayberry Squad Car Nationals organizers. "Since he shared our love for both racing and Mayberry, we really want to do something with our event to pay special tribute to him."
Respected Alabama television sports anchor (and Mayberry enthusiast) Mike Raita will head up a Goober panel that will judge the Mayberry Squad Cars for their "Appearance Authenticity," (that is, how much they look like the squad cars on "The Andy Griffith Show" itself). Raita and Fayette High School football coach Waldon Tucker also will get behind the wheel and duel in a special "2 out of 3" drag race in selected Mayberry Squad Cars.
Other personalities on hand will be renowned impersonator David "Barney" Browning, the magical Allan "Floyd" Newsome and Jamie "Opie" Sullivan. In addition, the event will feature all sorts of other goings-on (including Mayberry trivia and theme-song whistling contests, music, and of course plenty of hearty eatin').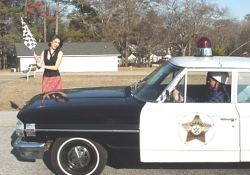 All individuals who have Mayberry Squad Car replicas that they would like to race (it'll be in a controlled way that won't endanger the engines and other parts of the cars) or bring for display, are invited to contact Kenneth Junkin at (205) 364-7727 for more information or to reserve a racing spot.
Otherwise, Mayberry and racing fans (or anybody else who's just curious) can simply show up on March 17 and pay only $5.00 per person (kids 12 and under get in free with a paying adult). Advance tickets may be purchased by calling Kenneth Junkin at the above number.
For anyone who is attending from fairly far away and needs overnight lodging, Tuscaloosa to the southeast will be the biggest town fairly nearby with the most hotel accommodations. (The University Days Inn in Tuscaloosa is the official host hotel.)
The organizing sponsor of the First Annual Mayberry Squad Car Nationals is the "Hearty Eatin' Men and Beautiful, Delicate Women" chapter of TAGSRWC. Other sponsors include the Fayette Quarterback Club and the world-wide organization of TAGSRWC.
Get revved up for an action-packed day of fun that promises to make a bit a history for both racing and Mayberry.